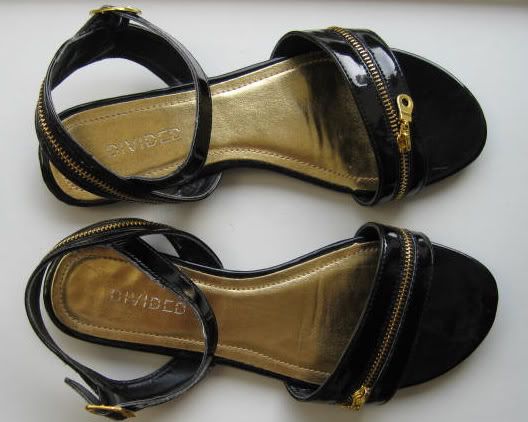 haremsbukser vila, lak sandaler divided
Jeg tog forbi Topshop idag fordi jeg skulle returnere en oversize cowboyskjorte, nu jeg havde fået mandens gamle Levis :-) jeg synes det var lidt overkill at have to i klædeskabet, når der er så meget andet jeg gerne vil have. Apropos andet, så kom jeg forbi h&m på vejen og fandt en del lækre ting derinde, bl.a. disse laber sandaler i lak med guld lynlåse og guld detaljer. De blev hapset med det samme uden tvivl. Jeg har bare noget med lak... hmmm...
Der røg en del i indkøbsposen både hos h&m og hos Topshop, det er altså farligt med alt det udsalg allevegne. De nye ting i posen bliver vist snart...